How Air Conditioning Systems Work
Over the past 4 months AirVantage Cooling & Heating Services has explained in a series of articles How Air Conditioning Systems Work.
If you've missed any of the AirVantage ac system articles, click any of the link titles to re-read.
1) Noises AC Systems Make
2) Choosing An Air Conditioning System
3) What Function Does My AC System Have
4) How Residential AC Systems Work
5) Cooling
The overview links above for our series, Your AC System From Return To Supply should give plenty of information & self help tips that hopefully help avoid a service call. Whenever you're able to self-diagnose, you'll feel at ease with basic maintenance items that you can perform yourself like checking your condensate line outside to see if it's dripping.
Innovations In Precision Air Conditioning Cooling Systems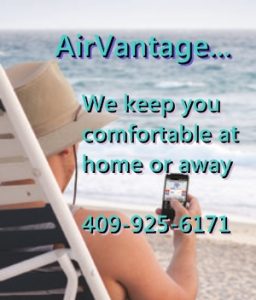 American Standard is a recognized leader in comfort technologies. With the introduction of smart thermostats and Wi-Fi–enabled air conditioning, homeowners all along Houston Gulf Coast communities are gradually accepting these innovations as they provide precision cooling indoors when temperatures and humidity increase outdoors.
Read on to learn more about several technologies available for Wi-Fi–enabled air conditioning and discover the benefits they offer for homeowners and you and your family can…
Be On the Go, in the Know, and in Control… Anytime, Anywhere.
League City area homeowners can get started by letting AirVantage put you in control with the Nexia app. It's compatible with just about any smartphone operating system. Once installed on your smart device, the all-in-one home automation app is designed to give you access to all your connected devices in one place. Nexia, gives you the ability to monitor and control your home's temperature, locks, lights, and even your garage door from virtually anywhere.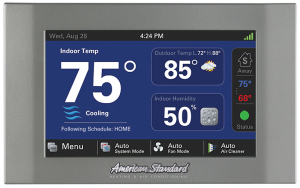 It all starts by installing a smart thermostat like the American Standard AccuLink 1050 with features like…
Wi-Fi or Ethernet connection , Control over 200 z-wave home automation devices

Compatible with AccuLink Communicating and AccuComfort Variable Speed Systems

5-day weather forecast, alerts and radar , Built-in humidity sensor

Receive remote access via Internet-enabled computer , smartphone or tablet.

Replaces / Supersedes:  CNT06391 , CNT-6391 , ACONE950AC52ZAA and others.

So, How Does It All Work?
Glad you asked. American Standard's AccuLink thermostats work in concert with the Nexia smart home system app to provide the convenience and advantages of a smart home through a series of sensors.
Features include- Voice Control: Control your XL 1050, lights and small appliances by voice commands with Amazon Echo. Simplified Scheduling: Log on to your account within the Nexia portal. Simply set up your thermostat scheduling to your desired preference. Automations: By connecting additional devices to the XL 1050's built in bridge, you will unleash the full capabilities of Nexia smart home systems with automations.
These automation's allow your smart devices to operate automatically based on specific conditions or time of day. For example, with the addition of a compatible touchpad door lock, you can automatically change your thermostat to your preferred temperature setting when entering your home….and more!
Keep On Top of HVAC System Maintenance Reminders
With all of the reminders you need to address items on your to-do list, wouldn't it be great if you had a way to keep on top of HVAC system maintenance? The Wi-Fi–enabled American Standard AccuLink 1050 seven-day programmable thermostat removes that burden for you. When synced with your computer, smartphone, or tablet, this thermostat can tell you when your system is due for an HVAC system maintenance check or when you need to change the air filters in your system. (Don't forget to call AirVantage for more information…
409-925-6171 or email us today)
Complete Home Climate Solution
Gulf Coast homeowners know that actual air temperatures themselves are only part of the equation when it comes to feeling comfortable inside their homes. Proper humidity levels is also essential to achieving home comfort and Wi-Fi–enabled technology can also allow you to instantly fine-tune your home's humidity levels just by tapping an app on any smart device.
Like To Know More About How AirVantage Can Help With Advanced Air Conditioning Technology?
It's simple. Just call or text 409-925-6171 Today. Schedule one of AirVantage's Technicians for an in-home evaluation of your current system.