Choosing An Air Conditioning System. Should I go with the basic or best ac system for my home?
During our lifetime… we're faced with a ton of decisions.  Often, we have to decide when buying something expensive, (like an air conditioning system) should I choose the basic or the best one? Like many answers to questions like these, the answer is "it depends".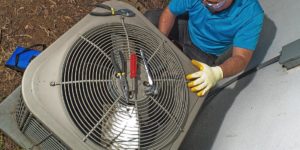 When it's time for a new air conditioning system for your home many factors need to be considered, such as:
How long do you plan to live in the home?
 What is the efficiency of your home? In other words, what is your wall insulation, has your attic insulation been upgraded, are your windows the original single pane units. These factors come into play when choosing a new air conditioning system.
 How much of your budget are you comfortable with investing in a new air conditioning system?
 Should you consider financing options which will allow you to put in a better system?
 How much of a priority do you put on home comfort regarding factors such as humidity control and sound control in your home?
 What kind of troubles are you having with your existing AC system that you are trying to overcome?
AirVantage won't try to sell you the most expensive ac unit. We are an American Standard dealer with a wide variety of models from basic to best. Our team members are factory trained to diagnose your failing system and based on your goals, recommend the system that will most suit you.
Here are a few examples of American Standard air conditioning systems to give you an idea of what's available.
Silver Series:  Basic, installed with little modification and economically priced.
Gold Series:   Improved efficiency and some modification to the homes connections
may be  needed.
 Platinum Series: The most efficient, comfortable and quiet system available.
If you are thinking about replacing your current ac system… contact AirVantage for your free air conditioning assessment and estimate. We specialize in new installations & can customize the system to meet your specific needs, affordably.
Often we can get you cool in just one day.
Call John today and set up appointment. You'll get a totally unbiased recommendation detailing several scenarios so you can make the best decision for your home and budget. 409-925-6171