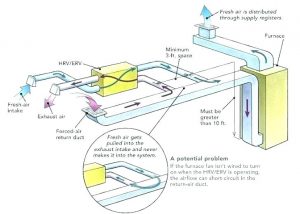 What Function Does My AC Return Air System Have?
AirVantage is beginning a new residential air conditioning series that will explain the different parts of your home ac system and how they all work together to make your home cool and comfortable.
Part 1 of a 5 part series- Your Residential AC System From Return to Supply

What function does My Return Air System have as part of my overall residential ac system?
Think of your ac system as a recirculating pump. The system works by heating or cooling air and then pumps it back into your home.
In simple terms… conditioned air is pushed in… but the air already in your home needs to find an escape. Your return air vents pull/suck in the air, putting it back into the system which maintains air pressure in a home.

The return air or, the beginning of your AC system is where the unconditioned air comes from your home to be cleaned, circulated, heated or cooled.
Your home ac works by absorbing warm air & moisture from all conditioned areas of your home through return air ducts mentioned previously. When the dampness has been removed from the air, your AC unit cleans & cools the warm air, and sends it back into your home through the supply air vents.
Sizing:
It's important that the return air system be sized properly and well sealed. Unfortunately many of the older homes were not constructed with this in mind.
A general rule of thumb is that a return air grille should have one square foot of space for each ton of air conditioning. More is better.
Distribution:
While one return air grille is adequate for most systems, AirVantage generally recommends at least two return grills in separate locations. This often results in a more equalized temperature control as well as a quieter return air grille sound.
Air tight sealing:
Your air conditioning system needs to retrieve air only from the home.
It's important that the return air grille, return air chase, and the return air duct be sealed thoroughly all the way to the air handling device. This ensures that clean indoor Air as opposed to attic or outdoor air does not get into the system. (An exception to this are systems that intentionally bring in outdoor air in limited quantities for homes that are particularly well sealed)
Have A Question? Be sure to talk with your AirVantage technician about the quality of your return air on your next Air conditioning checkup. Contact Us with any questions… 409-925-6171.
Next month we will be talking about the heating system of your home air conditioning system, so watch for next months newsletter.