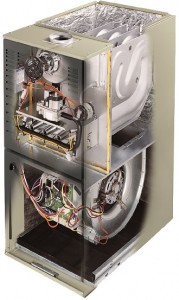 Some folks may think getting a heating system check up is not needed because our heaters in this area don't get a lot of use, but actually not getting a lot of use can be a good reason to get a check up. You see, when components in heater (and other mechanical systems) don't move often these components can get stuck in a particular position which can cause a possible failure of that component. A little like the old saying "move it or lose it".
Other concerns about regular furnace check ups involve thoroughly checking the heat exchanger which is the part of the heating system that separates the air in our homes that passes through the furnace from the exhaust gasses that should vent out the roof. If this heat exchanger rusts through or cracks it can allow carbon monoxide gas to accumulate in our homes to possibly dangerous levels. Of course any good furnace check would be incomplete with out a proper test of the safety controls and motors.
AirVantage offers a seasonal furnace check up that includes checking up to 18 different components depending on which type of furnace you may have but we always recommend getting it done early before the cooler weather sets in to avoid troubles and help keep you warm and cozy through the winter season. Call today and ask for $10 off this important service.
409-925-6171 or 281-704-2625
http:www.AirVantageCo.com