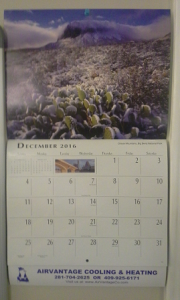 AC Repair in League City for 2017 will be more important than ever so be sure to have a Scenes of Texas or one of 4 other themed calendars on your wall in case you have an AC break down or just need an AC tune up.
FREE 2017 Calendar
Scenes of Texas, Memorable Images by Norman Rockwell, Pets, Health Tips, and GM classics are available however supplies are limited so….
Get yours today at:
 League City Regional Chamber of Commerce
319 E Galveston Suite b
League City TX 77573
Or simply call us at 409-925-6171 or 281-704-2625 for a Heating or Cooling tune up and we'll bring one to you.
                                     http://www.AirVantageCo.com