Cooling (a Texas Gulf Coast necessity)
When People Think About Cooling… What Are they Really Talking About?
Cooling, referred to air conditioning by many, is most likelythe most important thing people think about when it comes to being comfortable. That's no surprise since summertime utility expenses are often comprised of 60 to 65% of your monthly cooling costs. For that reason a homeowner should carefully consider purchasing the most efficient air conditioning system that is within their budget.
Is Financing Available For New HVAC Systems?
Yes… AirVantage works through Wells Fargo and this is where considering financing instead of tapping a saving account, makes real sense. Consider an investment of a high efficiency air conditioning system; it may be more advantageous due to the energy savings that can offset the interest costs.
How Does My Air Conditioning System Work?
The cooling operation is achieved by means of the outdoor unit. That odd box in your backyard with all the fins removes heat from the home in conjunction with the indoor cooling coil.
Evidence of effective heat removal can be felt at the outdoor unit. If you've ever put your hand over the top of the outdoor unit when it is operating the air feels quite warm. That's the heat being removed from the refrigerant which is circulated through your indoor coil.
If I Have Allergies What Can You Suggest To Filter Pollen & Pollutants?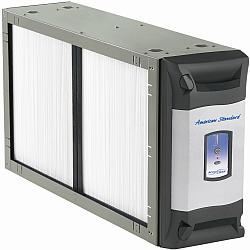 AirVantage recommends the American Standard AccuClean™ Whole-Home Air Filtration System. Superior filtration of allergens in your home; Clean air for you and your family … to .1 micron in size; Eight times more effective than the best HEPA room appliance … Warranties are for residential use only, some exclusions may apply.
SYSTEM HIGHLIGHTS
Removes up to 99.98 percent of allergens from the filtered air
Catches particles down to .1 micron in size
Eight times more effective than the best HEPA room appliance
100 times more effective than a standard one-inch throwaway filter or ionic-type room appliance
Delivers cleaner air and more of it
Reusable filter can be cleaned by vacuuming
Installing the AccuClean™ system when you are considering a replacement Air Conditioning system is a sound decision and will truly give you everything in a whole house system.
Call AirVantage Today For More Information and Pricing Details. Our technicians can install your new system in one day.
AirVantage Helps You Chill Out!
409-925-6171