"Every time you tear a month off a calendar, you present a new place for new ideas and progress." – Charles Kettering
"Be sure to put getting a calendar on your calendar this year."- John Van Drunen

Although my quote isn't as well known as the quote by famous poet Charles Kettering, it serves as a reminder that the popular AirVantage calendar giveaway is here.
This year we're doing things a little differently.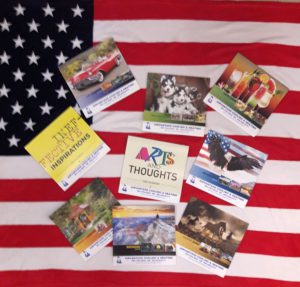 The 2020 AirVantage calendars are in and they're readily available in limited quantities from The League City Regional Chamber & the Santa Fe Texas Chamber offices.
Yes, we all know we have calendars on our phone but, the AirVantage calendar offers an easy way to access a reminder of things you note on them.  And, we all know that by simply writing a thought down, we are more likely to remember it. All you need to do is look up at them to be reminded of that dental appointment or that heating service check up appointment.
Calendars can be… inspirational, thought-provoking and many times include beautiful images that change from month to month providing an opportunity to think back or, think forward about our successes and life events.
To make the 2020 AirVantage calendar more interesting… there are a number of different themes to make our calendar give away more fun.
I encourage you to stop so stop by and pick yours out from the League City & Santa Fe Chamber offices today or simply have AirVantage out for a heating check-up and choose from the different calendars that are available.
Be sure to pick out a few for your friends' family and neighbors. Do not delay because this year they are in limited supply and they always go fast.
 Get your AirVantage Calendar from:
League City Regional Chamber of Commerce office
318 E Galveston St.
League City, TX 77573
Santa Fe Chamber of Commerce office
12425 Hwy 6 #1
Santa Fe, TX 77510
John Van Drunen
AirVantage Heating & Cooling
(409) 925-6171