How Long Do AC Thermostat Batteries Last?
That's a question we're asked often. Generally , thermostat batteries last 8-12 months & help retain settings during power outages. Low batteries in digital thermostats are a common cause of issues preventing the heating and cooling system in your home from running.
Depending on the manufacturer, your HVAC system may have a 24 volt C (Common) wire that provides power to a thermostat that does not use battery backups. However, if you're in doubt give AirVantage a call at (409) 925-6171.
Why Batteries Are Important
Today's programmable thermostats will usually display or flash a low battery symbol when the batteries begin to run low.
The warning can start 1-2 months before the batteries are completely dead.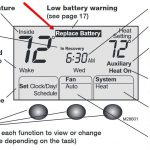 This warning may be a battery symbol, various words on the display (like the red arrow in the image) indicating a low battery. It could also be a flashing light on the unit. Be observant because when the display goes blank, the batteries have run completely low.  If you get to this point, the thermostat can no longer control the HVAC system and this might lead to excessive heating or cooling of your home, or even worse, no heating or cooling at all.
Put an annual battery change on your AirVantage Calendar.
Most everyone changes their smoke detector batteries when the fall time change occurs but, did you know that your HVAC thermostat batteries should be changed at least once a year? We recommend adding a reminder to your AirVantage calendar to change both your thermostat and smoke detector batteries at the same time.

What Type of Batteries Does My Thermostat Need?
Depending on the model, your thermostat may take AA or AAA alkaline batteries, or possibly lithium batteries. Warning: manufacturers discourage using rechargeable batteries, as many rechargeable batteries use improper voltage.
It's November… have you checked your thermostat batteries?

 It's important to know how to properly change your batteries in your AC and Heat thermostat. We recommend and annual fall heating system check-up. At that time your,  AirVantage heating check up technician can show you how to change your thermostat's batteries so that you'll be prepared if you should have a problem in the future.
Have any questions about changing your thermostat battery? Need AirVantage to check your heating system? Give us a call… 409-925-6171 or you our convenient Contact Form