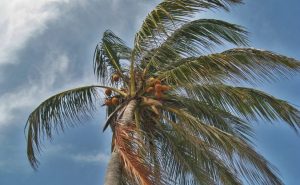 Yep. Hate to mention it but, the hurricane forecast for 2021 is up this year from last. As your leading League City area AC system service provider, we've put together this 2021 Hurricane Preparation Tips For AC Systems checklist. If you have any questions, text or call John at 409-354-1234.
Elevate / Raise Your Outside AC Unit
With many of us living in flood prone zones, the 1st thing you should check is to see if your condenser is elevated. HVAC equipment installed outside the house should be elevated to 1′ above the base flood elevation (BFE), just as the living areas of newly-constructed homes are required to be. Equipment normally placed on a pad at grade level (e.g., HVAC compressor) should be secured and raised to a level safely above flood waters.
If you need help raising your system, we will be glad to assist.
Cool Down Your Home Right Before the Storm
In our coastal area, power outages are common during and after severe storms. We suggest that to help keep your home comfortable when the power goes out, turn down your thermostat to a cooler temperature than normal. It also helps to close the blinds, pull drapes and window coverings, and keep windows and doors shut tight to keep the cool air in and the warm, humid Gulf Coast air out.
Protecting Your Unit During the Storm
Make sure that your air conditioning is turned off after the step above. It's just a matter of time before possible electrical surges happen in a major storm. Power surges  can have detrimental effects on your HVAC unit because with power surges, the compressor in your unit can be damaged and become an expensive future repair.
Keep cool with ceiling fans and electric floor fans.
Lightning is a threat during any storm. Unfortunately, there is no way to prevent lightning from striking your home or HVAC unit. If there is damage after the storm and your AC system is damaged from lightning, it could be a capacitor which is an inexpensive repair. We suggest calling our service dispatcher so we can check your entire HVAC system.
Pro Tip: Investing in a surge-protector for your HVAC unit is a great way to prevent the damaging effects of a lightning strike.
Wait To Turn On The AC
At Airvantage, we realize how quickly your home can warm up without air conditioning during and after a hurricane knocks out the power.
Once the power is restored, wait to turn on the AC until the unit has been inspected by an HVAC technician. Flying debris, flood water or high wind may have damaged your air conditioning system & created an unknown safety risk for both the unit and your home.
6 Additional Tips for protecting your home during a Hurricane:
Brace your garage door. If heavy winds break down your garage door and get into your garage, it's easier for the whole roof to be ripped off.
Securely fasten windows and doors. Protect your home from broken glass and flying debris by ensuring all doors and windows are locked. Many homes in hurricane-prone areas have window, porch and door protection systems for added security.
Trim surrounding trees. Keep an eye out for dead limbs or overhanging trees on your property and remove them before they can cause damage in a heavy storm. Other loose objects around your yard like patio furniture and grills should also be secured.
Unplug appliances or invest in a surge protector. In a severe storm, electrical surges are a very real possibility and can do a lot of damage to your expensive kitchen appliances and home entertainment systems.
Protect your home from flood damage. If possible, move your car to higher ground and move valuables off the floor. Most importantly, make sure you have the proper flood insurance and an updated home inventory to make any future property claims easier.
AirVantage offers Fast, Friendly & Knowledgeable AC system support and repair for the League City area & surrounding communities. We hope this Hurricane Preparation Tips For AC Systems checklist will help ease stress and anxiety during a storm. If you have a general question, check out our FAQ page here or call now… 409-354-1234.