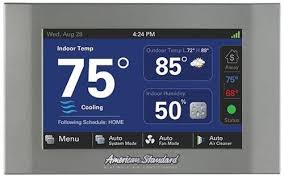 Proper Humidity Levels Inside Your Home? Why do people use humidifiers in their home? What are the benefits to having the proper humidity inside of your house?
As you can see on the American Standard Acculink Platinum 850 AC Thermostat above, the  relative humidity is 50%. For optimum health and comfort, the Mayo Clinic suggests somewhere between 30-50% humidity. This means that the air holds between 30-50% of the maximum amount of moisture it can contain. We like our humidity level around 42% in our home.

So, the question is what is the best way to keep humidity levels between 30 & 50% as the mayo clinic suggests?
AirVantage is an America Standard dealer and we suggest the AHUMD500 model as it is quite efficient and will dehumidify up to a 4200 sq.ft home.

Platinum Humidifier Highlights:
Designed for homes with up to 4,200 square feet & automatically delivers the right amount of humidity as needed.
Delivers up to 50 percent more moisture than comparable humidifiers due to it's optimal outdoor sensor to monitor temperature to maintain correct indoor humidity levels.
So quiet, you'll barely notice it's running.
Unique Flow-Through Design helps control mineral buildup, minimizing maintenance & resists rust and corrosion.
Quick-access humidifier pad makes maintenance easy.
So, if you're looking for the Proper Humidity Levels Inside Your Home, you can easily achieve these comfort levels and…your home will become even more comfortable by installing the American Standard AHUMD500 humidity control system.
Call AirVantage today for a quick quote. We can install quickly and you can start reaping the benefits immediately. Call us now… 409-925-6171