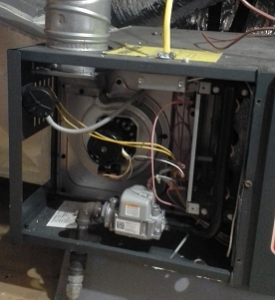 Do you need A Heating System Upgrade?
Hello. It's John at AirVantage Heating & Cooling.
With the cold fronts coming through and temps dropping a little more every night, is your heating system running up to par and ready whenever those really cold nights arrive?
So many of us simply forget about that system hidden away in the attic until we have a problem and have to make a heating system service call.
If you haven't had a fall check up from AirVantage, just call us now and schedule. 409-925-6171. We guarantee a fast service call.
Another question is… how old is your heating system? Years pass by and it seems the average age is around 15 years. In that 15 years there's been a tremendous amount of technological improvements resulting in energy savings, quietness and longevity.
Generally, AC & Heating systems will give you signs that problems are ahead. Here are 5 telltale signs that your heating system may be headed for trouble.
1) An Old Home Heating Unit- As mentioned above… do you know the age of your heating system? Heating units will typically last for about a decade, maybe more.
Replacing a unit that's more than 10 years old with an Energy Star model can save you 20 percent on energy bills. 
2) Home heating units are expensive, but practical and necessary- As a home owner you can easily improve old heating systems that cost you money for maintenance. If energy bills rise for no apparent reason, take a look at your system. Older, inefficient systems require more energy to do the same job.
3) Loud Noises- Things like shaking, rattling, and squeaking are telltale noises that surely need to be checked out. If your unit's has squeaking, clanking, rumbling noises, it's time for a heating system upgrade.
Strange, loud noises coming from your home heating system are sure signs that you need a heating system system checkup or, that's at least, it's definitely time for a system check up.
4) Endless Repairs- As we've mentioned sometimes repairs can be the answer. However, in many cases, no amount of heating system repairs can fix an chronically broken system. Like with other things in life, know when to give up on your home's heating unit. Money spent on repairs would be much better spent on a highly functioning upgrade.
5) Extended Running Time- If you notice your unit running for longer than usual, it struggles to maintain your desired temperature, this can be a sign for upcoming maintenance. This inefficiency is a part of a unit's aging process. If – after repairs – it still runs much longer than it used to, the writing is on the wall as they say. It's time to replace your old outdated system.
By the way… older obsolete heating systems have No Extra Protection
Upgrading your heating system not only helps with your bills but, give you peace of mind in having a warranty with it.
Every manufacturer offers a base warranty that comes with the purchase of your system. These warranties typically cover parts that break due to manufacturer defects and last for up to 10 years. Extended labor warranty options are also available at a cost but provide you with the benefit of not only the free parts but discounted or free labor. These plans can range anywhere from 3-10 years and are manufacturer specific. Outside of the manufacturer's options, AirVantage Heating and Air Conditioning also offers system warranties. Call and ask about extended warranties.
At AirVantage you have options. We have financing available for a complete heating system replacement or, we can be your dependable AC system maintenance company. A new system takes about a day to complete. Call Today… 409-925-6171.