How Efficient Is Your Furnace? Understand Your Furnace's AFUE Rating For High Winter Savings.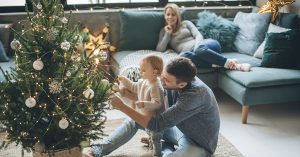 If you want to save money on energy when running your heating system, here are 3 things you can do that will have an immediate impact:
Simply turn your thermostat to a lower setting and layer your clothes
Add some tape backed weather stripping to doors and windows
Make sure your window coverings that face the sun are open
You may be an energy conscious homeowner and if you are, you are practicing the tips above. However, there is one thing that you must do to achieve the best energy savings and that is to have an energy-efficient heating system.
It's obvious that when you invest in an efficient heating system, you'll save money during cold weather and realize significant energy savings.
AirVantage Heating and Cooling recommends three steps you should take to determine the efficiency of your heating system:
Your energy bill
It's true that your winter heating charges will vary from month to month however, if your energy bill indicates sharp spikes from one year to the next, it's possible that your furnace might not be as efficient as you would like.
There may be some peripheral elements causing energy bills to spike. For instance: a) poor maintenance by the homeowner, b) shifting weather patterns – possibly… the previous season saw an unseasonably warm winter, or c) it could be time to check your insulation and possibly add more. When it comes to tracking your energy usage during cold weather months over a two or three year period, there are many factors that can cause fluctuations.  Airvantage recommendation is an annual heating system checkup.
What is your furnace's AFUE rating
Wikipedia states: The annual fuel utilization efficiency (AFUE; pronounced 'A'-'Few' or 'A'-'F'-'U'-'E') is a thermal efficiency measure of space-heating furnaces and boilers. The AFUE differs from the true 'thermal efficiency' in that it is not a steady-state, peak measure of conversion efficiency, but instead attempts to represent the actual, season-long, average efficiency of that piece of equipment, including the operating transients.
If, for example, you have a natural gas furnace with a 75 percent AFUE rating, that implies you could be losing a quarter of every dollar of your heating bill, or $25 for every $100 you spend.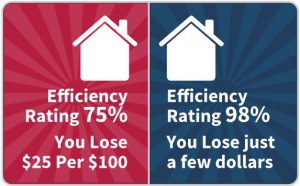 Let's imagine… you go next door to your neighbor's house and learn they've just installed a furnace has that 98 percent AFUE efficiency. Their 98% efficiency rating translates into a savings of nearly $23 bucks instead of possibly losing $25 dollars for every $100 in heating costs.
It might be that you have an 18 to 20 year old home with a gas furnace that has an AFUE rating that's under 78 percent.  If you are unaware of the AFUE rating system, you might not know that just by calling AirVantage and scheduling an appointment, you could be taking the 1st steps to improve your overall HVAC system energy efficiency.
5 Ways To Tell If Your Furnace Is Inefficient…
Your heat pump is more than 10 years old.
Your equipment requires frequent repairs.
Your energy bills have steadily increased.
Some rooms in your home are too hot or cold.
FYI- In 1992, the U.S. Department of Energy established new manufacturing standards for furnaces, requiring them to be at least 78 percent efficient. That number rose in 80 percent in 2013, and most modern high-quality units hit 98 percent efficiency.
So how does a homeowner check the furnace efficiency rating? You can find your heater's AFUE rating in your user manual or if you don't have one… just open the heater cabinet and inside you should find the AFUE sticker. If neither of those options work, go online to the manufacturer website and search for your units model number.
How old is your furnace?
Furnace efficiency can also decline by about five percent each year without proper maintenance.
Take this into account; should your furnace have the highest AFUE rating, make a note of how old it is. Stats show that the average furnace has a life expectancy of 15 to 20 years. Keep in mind that even if you've had regular visits from a local AC repair company, the components in your heating system will eventually start to degrade due to age and use.
So the question you may want to ask is… has the time come to replace your heating system?
Call John at AirVantage Cooling and Heating Services and ask about a new American Standard  energy efficient heating system. John is an expert when it comes to heating and air conditioning repair. Our service experts can install a system that keeps you warm and comfortable without forcing you to spend too much on your monthly bill. Financing is available.
If you're happy with your furnace but concerned about its efficiency, AirVantage can help with that, too. Our repair team can inspect your system and make sure it's functioning properly.
Contact us today to get started… 409-925-6171.