Can I Finance My AC System? Yes… Here Are Your Benefits Of Financing Your New Air Conditioning System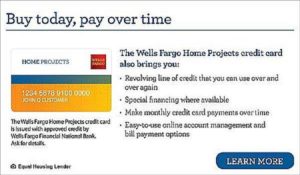 At AirVantage we try to make things as simple as possible for our valued customers. One way is to offer financing through Wells Fargo.
There are a lot of smart reasons for choosing to finance your new Air Conditioning/Heating system. Consider the following:
You're Prepared for Other Emergency Situations…
It can be hard to predict any emergency and if one happens, you want to be prepared.
Living along the Gulf Coast you never know what might happen. Hurricanes, tropical storms, tornadoes, a water pipe burst or sewage stop up can be costly and come at the most inopportune time.
You could find yourself in big trouble if any of the above happens as they are all are costly repairs. Thankfully, with financing, you can plan affordable monthly payments, so you are
prepared for all that life throws at you.
Replace Now, Worry Less Later
Sooner or later you most likely will experience issues with your current HVAC unit. You can continue to take the 'Band Aid' approach & spend money on repairs once or twice a year or, you can stop the money drain by making the decision to replace your system with a new American Standard system today.
By taking advantage of Wells Fargo financing plans, AirVantage can install a new system that will work to keep your home more energy efficient and eliminate the cost of repairs needed to keep your old system working. And again, you can keep your savings account intact for bigger emergencies, a vacation or school tuition.
Better Health For You & Your Family
We are in our homes an average of ten hours a day… sometimes more. That means the indoor air quality for your family is important, especially in today's environment.
An old and inefficient air conditioning system doesn't just jeopardize your home; it can also be harmful to your health. There have been monumental technical advances in air quality and energy efficiency engineered into home HVAC systems over the last few years.  An older unit that isn't operating properly or is ten or twelve years old, can cause an adverse effect to your indoor air quality. Do members of your family suffer from asthma, allergies, itchy skin, or other health issues caused by indoor contaminants. If they do… you should consider a new air conditioning system as the benefits are many. If you have questions, visit our FAQ.
Other Benefits Of Financing Your New Air Conditioning System Can Be Increased Home Value
Homes seem to selling like crazy in many parts of League City and Galveston County.  It's a fact that purchasing and financing a new heating and cooling system could dramatically improve the market value of your home.
If you're thinking of putting your home on the market in the near future, financing a new system might be a prudent decision.  You can reduce the upfront cost of your new investment through financing.  Of course, it pays to consult with a Realtor in your area to get all the facts. In the mean time, your family could be enjoying energy savings and better health with a new system from AirVantage.
Air Conditioning companies & customers alike benefit greatly from the financing opportunities available through Wells Fargo. However, AirVantage does not offer direct financing. Instead, we participate in relationships with lenders in the area as we have with Wells Fargo in order to facilitate financing
Whenever the time comes to install your new system, AirVantage can walk you through the available options and consult with you to create a plan that best suits your needs. To recap…
Fast and simple application process.
Expedited credit decisions.
Monthly online statements.
Low minimum monthly payments.
Periodic promotional opportunities.
Multiple payment options including online, regular mail and direct withdrawal.
AirVantage Air Conditioning and Heating services will help you get the financing process started. You can enjoy a new HVAC system for your home today.
We hope you've found this post on the Benefits Of Financing Your New Air Conditioning System informative and helpful…
Learn More about easy air conditioning system financing in League City, TX.
Contact us today for details! Keep reading all of the News & Tips posts to learn everything about HVAC. (409) 925-6171