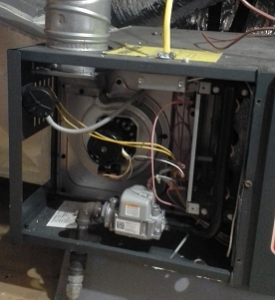 Heating Check Ups Are Important For Safety
With the cooler weather just around the corner, it's important to know your heating system is safe to operate. Gas furnaces as well as electric heaters can present a number of safety concerns if they're not properly maintained and tested annually for carbon monoxide output and safety control function.
Those who live in very cold or hot climates know how important HVAC systems are, but many people forget that the maintenance to keep them running well is just as important.
At AirVantage we feel that seasonal check ups are important, but if you were to choose just one, the winter checkup (especially if you have a gas heating system) is the most important, especially for safety reasons.
Here are the most important reasons for your winter HVAC system Check up:


HVAC System Efficiency
Maintaining your HVAC system on a regular basis is smart. Unless you maintain your system yourself, there are things that you wouldn't know about that cause your system to use more energy than it should. Catching these energy robbing culprits can reduce your energy bill and help with the environment. We suggest regular check-ups to make sure your HVAC system is running efficiently.
Beware of Problems Before They Become Issues
Why spend money if you don't have to?. Your heating system is an costly investment.
Regular winter check ups of your heating system can reduce repair down time and often save homeowners money over the life of their system. AirVantage can spot problems and if caught early, they can be repaired before they become major Issues.
Expand The life Of Your AC-Heating System
Another smart reason for a winter HVAC checkup is that it can expand the life of your AC-Heating System.
Energy Bills Can Be Reduced
Like we discussed earlier, an inefficient HVAC system can cost you money. Not only in repair bills, but in energy bills as well. An efficiently maintained heating system can save money by lowering the energy bill because fewer resources being used.
Dangerous Issues
With gas heating systems, there can be some dangerous issues and if not found can cause hazardous conditions. A winter heating system check will guard against problems like rusted burners or chambers that can cause carbon monoxide output and hamper safety control function.
Fortunately getting a winter HVAC check up from AirVantage is easy. Just call 281-704-2625 or 409-925-6171 or Tap Here to make your appointment