How Scheduled Fall HVAC Maintenance Checks
Save You Money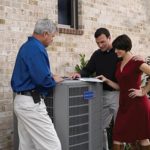 Your HVAC system has worked hard through the brutal heat of our 2023 summer. It's tired, and with the cooler weather right around the corner, the time is right for a fall hvac system check-up
Texas homeowner's should be aware of their heating and cooling system conditions to avoid surprises leading into the fall and winter heating season. Annual air conditioning system inspections are important for reducing system malfunctions after such a record-breaking summer heat wave.
Customers ask us… What are the benefits of fall HVAC maintenance?

A fall maintenance check for your HVAC system is a preventative inspection channeled into the long-term maintenance of your AC system. Early prevention helps to avoid unexpected breakdowns. It also allows your AirVantage service tech to make repairs and do any cleaning to the unit's components so the system is ready for winter use.

7 Reasons To Have Fall HVAC Tune-ups
* Gives your HVAC system a jumpstart
* Increases system efficiency
* Reduces the likelihood of a breakdown
* Helps prevent expensive problems in the future
* Extends HVAC system lifespan
* The EPA recommends it
* For your safety
What Airvantage includes during a fall AC system check-up?

  
Complete inspection of the blower assembly.

Older models require lubrication of motor plus an inspection of the fan belt, and replacement if necessary.

Check the combustion blower housing and remove any lint, dust or and debris.

Examine the evaporator coil, drain pan and condensate drain lines.

Inspect for gas leaks in gas furnaces.

Investigate the burner assembly.

Inspect the ignition system and safety controls.

Check the heat exchanger or heating elements.

Inspect the flue system for proper attachment to the furnace, any dislocated sections, and signs of corrosion.

Examine the control box, associated controls, wiring, and connections.

Check air filters.

Inspect ductwork for leaks and signs of corrosion.
Is Fall Is the Best Season to Replace Your Old HVAC System? Check out the full line of American Standard HVAC systems.
Need an expert's non-biased Consultation about how Fall HVAC Maintenance Checks Save You Money?
Call John today at 409-354-1234 or use our contact form.