Following these 4 tips can reduce the likelihood of  an unexpected Clear Lake TX ac repair this summer.
1. Turn off the power and rinse out the outside unit.
This allows for a more free airflow through the coil which reduces the temperature of the refrigerant. In addition to gently rinsing the coils, you should also remove any items blocking air flow such as garden hoses or pool items as they can also cause a problem. Keep the grass short around the ac unit as well.
2. Change those air filters regularly.
Allowing the indoor system to breath helps reduce run time which can help the system last longer and reduce your cooling bill. Pleated air filters have more surface air and can do a better job but may cost a bit more so choose a filter that suits your budget. Change them more often in warmer (or colder) weather when the system is under high usage conditions.
3. Programmable and WiFi thermostats reduce run time as well.
Setting the thermostat to a slightly higher setting while your away from home can make the ac system last longer and save energy. Utilize this benefit whenever possible but I recommend no higher than a setting of 82 degrees so as to have a reasonable recovery time and help control some of humidity which can be a bit more difficult to recover from once it sets into indoor fabrics.
4. Get a preseason A/C Check up.
This can help identify problems that may arise later in the season from higher temperat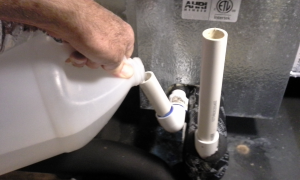 ure and increased work loads associated with our Clear Lake TX ac repair weather. Items such as refrigerant levels and drain testing top the list of items that should be checked but there are a number of other items we check as well, all in the idea of preventing a Clear Lake TX ac repair.
Contact AirVantage at 281-704-2625 or 409-925-6171 for a preseason ac check up today.
Website http://www.AirVantageCo.com 
Ac Repair League City, Air Conditioner Repair League City Tx, Air Conditioner Repair In League City, Ac Repair In League City, Air Conditioner Repair In League City, Air Conditioning Repair League City Tx,Air Conditioning Check Up Cost, Air Conditioning Check Up, Air Conditioning Check Up Car, Home Air Conditioning Check Up, Check Up Heating And Air Conditioning, Air Conditioning Check Up Cost, Central Air Conditioner Check Up, Home Air Conditioning Check Up, Home Air Conditioner Check Up, Check Up Heating And Air Conditioning, Air Conditioner Check Up Maintenance