AC repair in Pearland can become a much bigger issue when a lack of refrigerant is not addressed early in the season.
The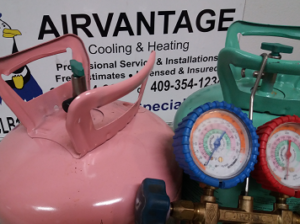 refrigerant level in an air conditioning system is important not only to cool your home, but to cool a vital part of your system called the compressor. If the compressor does not receive enough cooling it may overheat or possibly even be damaged beyond repair.
A simple AC check up from AirVantage can determine if your system has the proper amount of refrigerant and if it does not then corrective action can be taken to help your air conditioning system be more durable through out our long hot summer season. In addition to checking the refrigerant level, up to 11 other items are checked to help prevent problems in the proper function of your system to help keep you cool and comfortable.
Quite often when we arrive for an AC repair in Pearland we find overheated compressors due to a lack of Freon and while some can be cooled down and restarted, others require an expensive compressor replacement. AirVantage would like to help you avoid that sort of failure.
When we find that an AC system is severely low on refrigerant we will often use a highly sensitive leak detector to determine where the leak is at. Depending on where the leak or leaks are found, we can then recommend a good solution to help prevent the shortage from recurring which also helps your AC system last longer in turn saving you money both on repairs and cost of operation. No one ever said "I would like to pay more on my cooling bill this summer." We look forward to helping you with this and all your Home comfort needs.
Call AirVantage at 281-704-2625  to set up an AC check up today.
On line at http://www.AirVantageCo.com
Ac Check Up Cost, Ac Check Up Near Me, Ac Check Up, Annual Ac Check Up, Ac Check Up Dallas, Car Ac Check Up Deals, Home Ac Check Up, House Ac Check Up, Ac Tune Up Checklist, Ac Check Up Near Me, Cost Of Ac Check Up, Ac Tune Up Checklist, Ac Unit Check Up, Ac Yearly Check Up