Great News For Homeowners, Small Business Owners &
Property Managers.
Ameristar Air Conditioning Systems In League City TX Are Available Through AirVantage Cooling & Heating Services.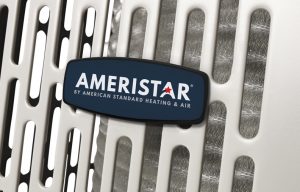 Recently, American Standard, one of the nations largest and highly respected HVAC manufacturers, announced that it's location in Tyler, Texas would be distributing it's new budget friendly Ameristar line of HVAC products.
Whether you choose a complete system or individual components, Ameristar's heating and cooling solutions allow you to save money on the product…and save energy when you use it. With Ameristar, you get the best of both worlds: reliable, year-round comfort as well as affordability.
Keep in mind that Ameristar is a budget friendly line of AC products and that there are some features that you don't receive when choosing Ameristar. For example… all systems are single stage systems. They are either on or off and do not have the energy saving feature that a two-stage system has.
How Does Ameristar Compare to the Competition?
In the presence of multiple well-known brands, it could prove quite difficult to make a decision on a brand to choose, however, Ameristar is known to offer quality products. Some of the major features that set Ameristar air conditioners ahead of its competitors on the market are:
Affordability
The biggest plus point of Ameristar air conditioners is the affordable price tag. Their models are relatively reasonably priced when compared to Trane, American Standard, or other counterparts. All of them are equally efficient at low prices, which is very attractive for budget-conscious people.
7 Sizes
Another significant quality of these air conditioners is that each model is available in at least 7 sizes i.e., 1.5, 2.0, 2.5, 3.0, 3.5, 4.0, and 5.0 tons. The ultimate choice depends on the user, according to his needs and budget. For Texas and our Gulf Coast cities, AirVantage recommends a 16 SEER rated unit.
Space – Saving
Ameristar air conditioners are highly admired for their compact design. They come with relatively small cabinets and, therefore, are highly recommended for small backyards or small spaces.
Multiple Warranties
Another significant advantage of investing in Ameristar products is that they are backed by reliable warranties. You just need to register your product within 60 days, and even if you fail to do so, you can still enjoy a 5-year warranty.
Durability
All the products offered by Ameristar are constructed from galvanized steel, which is corrosion-resistant. Therefore, you can expect a long life with less maintenance especially in areas near salt water. Another feature we like is Ameristar ACs are painted with weather-resistant paint to make them capable of withstanding hazardous environments without any hassle. 
Have a home or office with special requirements?
Ameristar includes in it's line up an affordable ductless system. Ameristar's ductless systems provide the utmost in flexibility when it comes to temperature control. With single-zone and multi-zone options, you can fix hot and cold spots in specific rooms, replace inefficient space heaters and noisy window units, or increase the comfort in room additions. In addition to being affordable to buy and operate, ductless systems are easy to install—no expensive ductwork needed!
Ameristar Air Conditioning Systems League City TX
From AirVantage Cooling & Heating Services
Have Questions? Please Tap the green phone icon when using a mobile device or call John at AirVantage… 409-925-6171.
Financing Is Available.