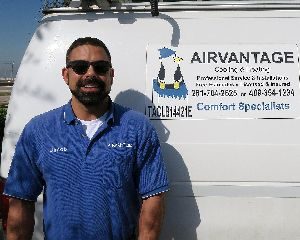 One of the questions we get asked the most is "What's Included In A Spring AC System Check Up?"
An inspection of your air conditioning system by one of the professional AirVantage service technicians will ensure your ac system is ready for the humid, hot Gulf Coast weather. Think of it this way… your vehicles, lawnmower, generator, motorcycle all have manufacturer recommended service schedules to help prevent unnecessary maintenance.
Scheduling an AirVantage Spring checkup is just as important to help head off any surprise
repairs. Call us for an appointment… 409-925-6171.
What Is Included In The AirVantage Spring HVAC Checkup?

A typical maintenance check-up includes the following…
Check thermostat settings- The AirVantage techs will ensure the cooling system keeps you comfortable when you are home and saves energy while you are away. There are a lot of new thermostats available and if you've been putting off buying and installing one, let AirVantage help with this money saving item.
Tighten all electrical connections-  Faulty electrical connections can cause unsafe operation of your system and reduce the life of major components. We will measure voltage and current on motors and connections.
Lubricate moving parts- We check all parts for proper lubrication as they can cause friction and increase the amount of electricity you use.
Check and inspect the condensate drain-  Restrictions in a condensate drain can cause water damage in the house and affect indoor humidity levels. Our service techs will flush your condensate drain and make sure condensation flows smoothly.
Check controls of the system- We will check the starting cycle of the equipment to assure the system starts, operates, and shuts off properly.
Cooling Specific AC System Tune Up Items…
Clean evaporator and condenser air conditioning coils– It's a fact that your condenser gets a lot of dirt thrown it's way. Weed eater debris, salt air, unchecked plant growth around the unit contribute to dirty coils. Most customers don't realize it, but dirty condenser coils can reduce the system's ability to cool your home. Dirty coils may cause the system to run longer, decreasing the life expectancy of the unit and increasing the power needed to run your system.
Check your central air conditioner's refrigerant level- Our repair techs will check for proper refrigerant levels; too much or too little refrigerant will make your system less efficient increasing energy costs and reducing the life of the equipment.
Clean and adjust blower components- AirVantage will check blower components for proper system airflow… resulting in greater comfort levels. Airflow problems can reduce your system's efficiency and cost you money in increased energy usage.
Hopefully we've answered all your questions about What's Included in a Spring AC Check up and Tune Up. If you need to schedule your Spring AC Tune Up, Call Us Now…

409-925-6171.
If you have other questions, please check our FAQ Section.
AirVantage is an authorized American Standard dealer and…
we service every popular brand.