If you notice a musty or bad smell in your AC Air Conditioner this season, here are 4 tips from AirVantage on how to fix it.
But 1st, don't forget to schedule your Spring Checkup. Call John at 409-354-1234.
Bad odors and musty smells can certainly ruin your normal day. Mold and mildew develop in places with high moisture content and it's likely your AC system may be responsible… especially if it hasn't run much during the last few months of winter. There are a few things to check out before calling AirVantage.
To make matters worse, your AC could be distributing mold and mildew spores all throughout your home while it runs, so it's important to discover the cause of the problem and take steps to remedy it.
Four Common Causes Your AC System Smells Musty & How To Treat It…
1. Dirty Evaporator Coil- When your evaporator coil is dirty, it can become an area to check for mold. The fix is relatively easy. Use a mixture of half bleach and water in a spray bottle and spray the fins, then rinse thoroughly with water.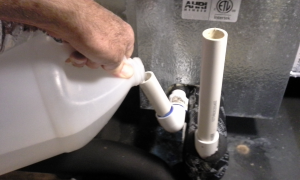 2. Clogged AC Drain Line- Mildew could actually be growing inside of a clogged AC condensate drain. This can occur when the unit's drip pan accumulates water. It's like a pond that doesn't have a freshwater supply…the water becomes stagnant and provides the perfect environment for fungi to grow. Your AC's drip pan may fail to drain properly causing the condensation drain line to become obstructed with algae. The fix is to locate your drip pan and make sure there isn't any standing water. If there is, get a bucket, paper towels, and a sponge and remove all standing water. Dry completely with paper towels. Then pour a quart or two of water into the pan and make sure it drains. If it doesn't drain, most likely your ac condensate drain is clogged. The best solution is to call for service from AirVantage at this point.


3. Mildew in Air Ducts & Vents- In areas with high humidity like our Texas Gulf Coast, moisture levels in homes can certainly cause problems. Mildew can form just about anywhere. One area that is prone to high humidity moisture problems is the central duct system that distributes conditioned air throughout your home.
AirVantage Air Conditioning and Heating Services does not clean AC Ducts. However, if you suspect your ducts are the source of the musty smell coming from your AC System, do some research and make arrangements for a duct inspection and possible cleaning.
4. Your AC unit may be too large for your home- Many homeowners don't understand that an AC system could be improperly sized for their home. It's True; it could be too big or too small for your home. The issue with an AC system being too large is that it draws in too much air and your HVAC system is unable to de-humidify the air causing moisture build-up and possible mold. Conversely, if your ac system is too small it will never cool your home properly leaving humid air which could be a prime environment for mold and mildew to thrive.
As we've mentioned,  if you've noticed a musty or bad smell in your Air Conditioner, some of the problems are easy to solve, but you may not want to do them yourself. The solution is simple… just call John at AirVantage for an over-the-phone consult and appointment. You can Contact John Here.
AirVantage Services League City, Webster, Clear Lake, Texas City, Santa Fe, and all nearby areas. We have written more than 100 articles covering all aspects of your home AC System. Tap this link to read and learn more…  Home AC System Articles