Have A Leaking AC Problem?  Call 409-354-1234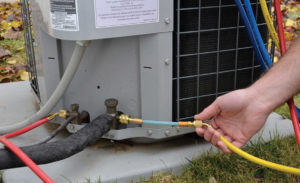 If you've ever had a Leaking AC unit after a repair, you know how it can nag at you and become a source of continuous frustration.  Many times homeowners are unaware when less than qualified technicians take a short cut to the proper diagnostic protocol.   Beware of "Leak seal" additives!  They are becoming more popular… but in reality, they are in no way intended to be a permanent repair.
Call A Professional! 
The professionals at AirVantage have been extensively trained with the proper techniques and tools to determine the location of refrigerant leaks. We offer long term solutions in order solve these types of Leaking AC Repair conditions.
In my opinion as a 35+ year  professional, an acceptable leak rate for the HVAC industry should be zero, and the way to achieve that is through proper installation up front & proper service throughout the equipment's life. The only thing that should ever be in an AC system is pure virgin refrigerant and oil. As a homeowner, you should understand that "leak stop products" are not permanent repair products and should never be a replacement for clean, dry, and tight AC system leak repairs.
A Word Of Caution…
To further complicate the issue of a Leaking AC Repair it is very difficult to determine if a leak stop product has been added to an AC system in the past. The concern here is that when the AC system is opened to initiate a proper repair the previously added product can solidify and cause bigger problems for the AC systems functionality.
Leak stop products may have a place when the AC system is in poor condition and replacement of the entire AC system is planned in the very near future.
Even then, there's a better alternative to consider. Click this link to see how you can afford a completely new, energy efficient American Standard air conditioning system installation with "no interest payments". This financing plan is offered through AirVantage and it's easy to apply. Call now! We're happy to help if needed… 409-354-1234.
Tip…
Always research your AC Repair Options! Know that your AC service company has high standards & professional experience. Check out what AirVantage Cooling & Heating customers have to say.
https://www.AirVantageCo.com