When you need A/C Repair in League City expect more than a quick arrival.
Being that our service technicians are likely to be nearby already, arriving quickly is a given expectation for a Quality A/C Repair in League City. However a timely arrival is only the beginning.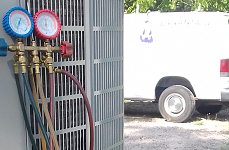 AirVantage service technicians have extensive training and industry resources in order to have at hand the knowledge for a thorough diagnosis as well as the communicative skills to explain the needed remedy to be sure your A/C repair is completed properly. We go to this level of quality of service in order for our clients to have the peace of mind knowing they've contacted the right A/C service company.
Further more AirVantage service vehicles are heavily stocked with a variety of parts, as well as original equipment manufacturer parts which in many cases are required to make the proper repair. This level of commitment to quality is again in the interest of our clients peace of mind knowing that AirVantage is the right A/C service company to contact for A/C Repair in League City.
With all that in mind, your A/C system may be operating  just fine at the moment so we at  AirVantage ask just one simple thing of you. Add us to you contact list in your phone as " AirVantage A/C repair 281-704-2625 " so we'll be there when you need us. When you do need us… we are just a touch of the screen from getting you back to that cool, comfortable feeling and the peace of mind you deserve in your home.
http://www.AirVantageCo.com